Informed Delivery is a consumer-facing feature offered by USPS® that provides users with free digital previews of their household mail. See what's in your mailbox in your email the same day it arrives! Any person can sign up for Informed Delivery. By signing up, you receive an email every day showing a scan of the mail pieces being delivered to your mailbox that day. As an extension of this program, the USPS is allowing direct mailers to include a digital ad in that email when their mail piece is part of that day's delivery. This digital ad allows the viewer to click-thru to any destination the mailer chooses. Best part – it's FREE!
When the email is sent from the post office showing the daily scan of mail pieces, it will also include a digital ad in the corresponding Informed Delivery email. It's free for now, until adoption grows. Once that happens, the USPS will most likely be charging for this extremely important ad channel.
This free addition to direct mail provides businesses with the opportunity to amplify their consumer impressions, as recipients will receive both the direct mail piece, as well as the coordinating digital ad in their email.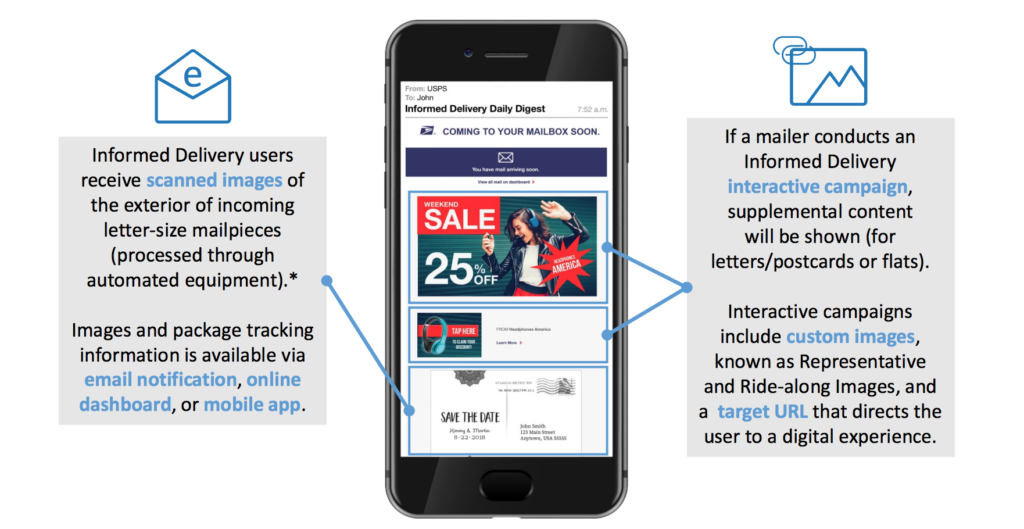 (Image from USPS®)
The process is simple:
1. A digital ad is created for your direct mail piece.
2. That ad is submitted with the direct mail postal information at the time of mailing by your printer/mailer.
3. Scanned images of the direct mail piece is paired with the corresponding digital ad and both are sent to users in email format.
Simply create your direct mail as usual. Provide your printer with digital campaign elements (or ask Talient Action to create the digital ad). Let the printer print and send the mail as usual. Consumers who have signed up for Informed Delivery, receive the images of their incoming mail as usual. In that email will be the digital ad which is clickable. That's right, your direct mail now has a digital email component. High open rates prove consumers are seeing these ads.
The value of this program can't be ignored. Informed Delivery Service has an open rate of 70%, offers multiple impressions per mailer (digital and physical), and provides measurability for free.
As for the competition. There isn't much yet! Informed Delivery is still fairly new and very few brands are taking advantage of the program. This means it's time to act fast. Luckily, getting started is easy. Simply continue your direct mail campaign as usual (or start a new one) and let TAG handle the rest. If you're already using TAG as a print provider, then Informed Delivery is free!
To get started with your free Informed Delivery campaign, reach out to an expert at TAG!