The Granite Group is a regional wholesale distributor of plumbing, heating, cooling, water, and propane supplies headquartered in Concord, NH with multiple distribution centers and branches throughout the Northeast. The Granite Group also operates retail showrooms under the name of The Ultimate Bath Store with expertly trained staff to assist customers with product information and selection.
Talient Action Group works closely with customers on their marketing efforts as related to digital and print. Our team understands the need for new customer acquisition, lead nurturing, retention, upselling, and of course all the digital and traditional media channels that must work with print campaigns.
Granite Group has established several successful marketing initiatives. They asked Talient Action to help ensure those successes continue to build. The first ask – drive more customers and prospects to a regional tradeshow marketed as a customer appreciation event.
There was a clear need for more eye-catching direct mail and marketing pieces. To start off with, Talient Action worked with TGG to design incentives for the programs such as Patriot ticket giveaways, then design a save-the-date announcement and ultimately the full-invitation and promotional piece to drive traffic to the event.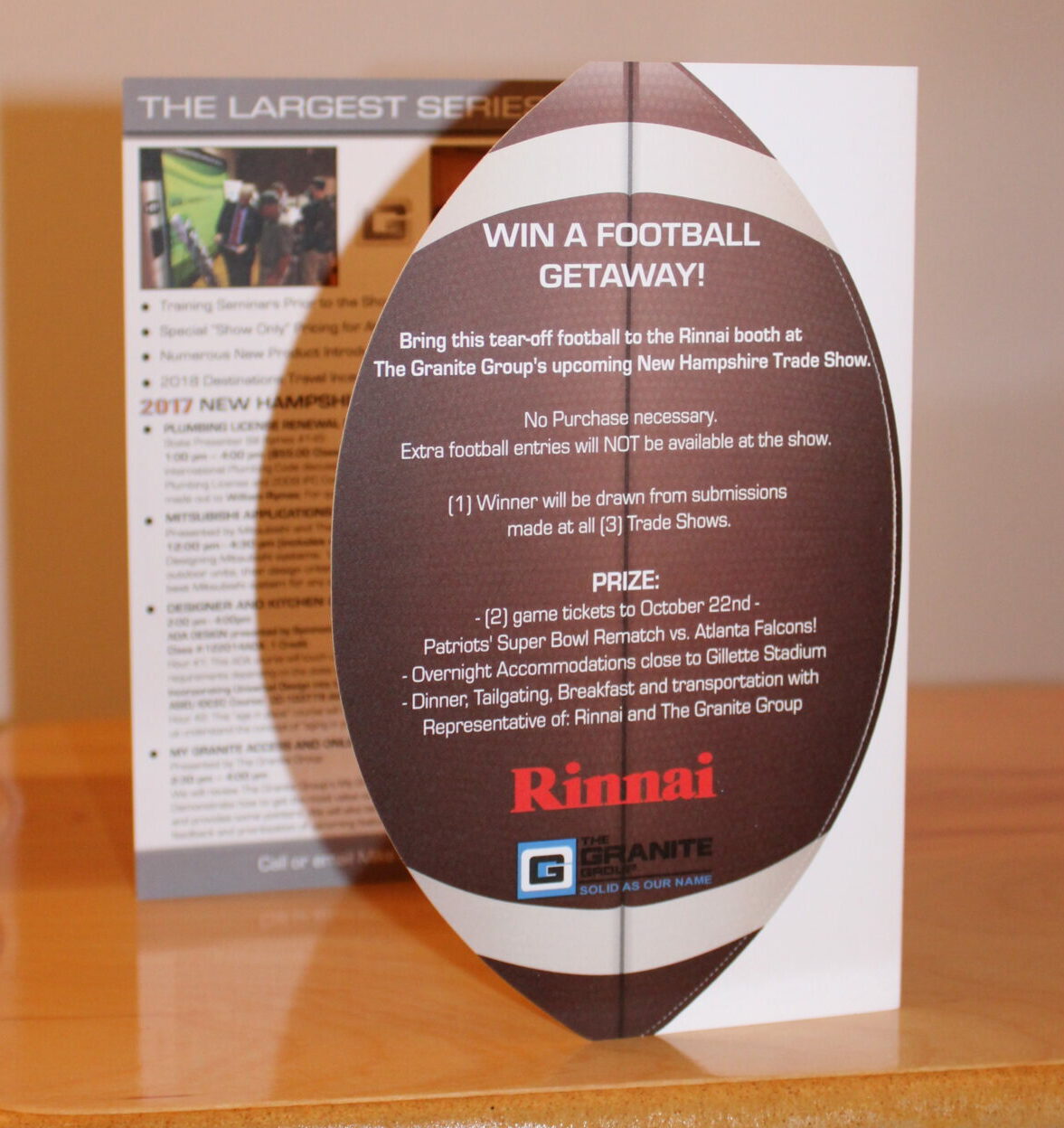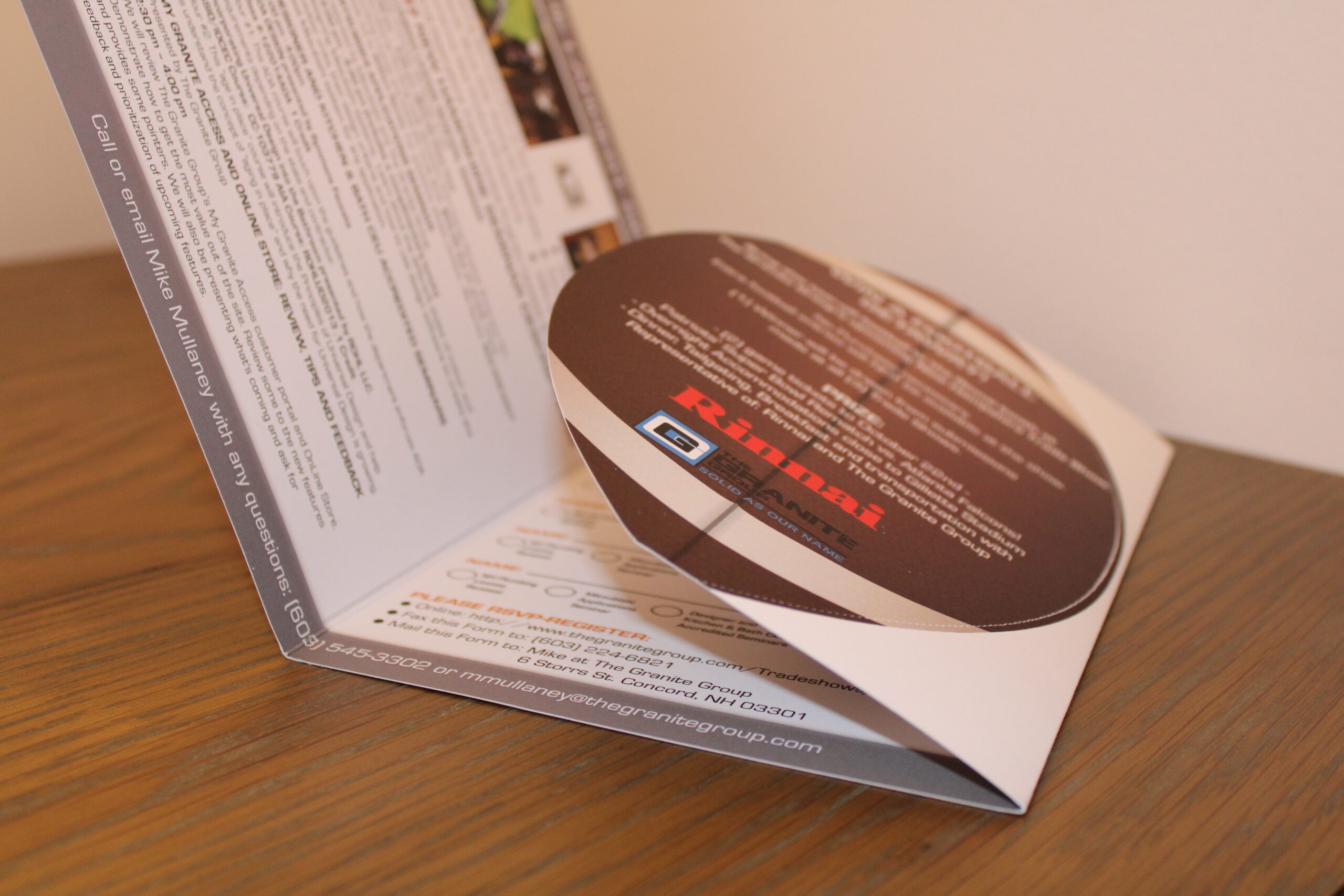 The Granite Group annually hosts 3 regional trade shows to help connect with customers and to build relationships by introducing customers to the original equipment manufacturers. In the most recent designs, Talient Action Group added variable data and a unique die-cut shape to capture the attention of recipients. Both changes brought more attention to the mail pieces and increased customer response rates.
The Granite Group also takes advantage of another unique opportunity to market to customers with creative print. When a new manager arrives in a territory, TGG jumps into action. Working with the team at Talient Action when new branches are opened or new managers are put in place, unique announcement postcards are sent to customers and prospects. Talient Action Group added variable data to this piece as well as a lottery ticket scratch-off area hiding a discount percentage for a next order. What better way to make you feel special and welcome by a new manager? Every customer is sure to scratch and win some discount or added value service.
While these are creative print marketing solutions created with The Granite Group, the basic administrative and marketing materials still need management. As The Granite Group grew in size and expanded the number of branches, the administration of print orders became a burden both in administrative and design time. Talient Action Group assisted by creating a Granite Group Web2Print portal for common items such as business cards, dropoff sales literature, and notepads.
Prior to the storefront, the design person at The Granite Group would receive a request, then reach out to other branches to see if there were any similar requests, create the graphics and email them to Talient Action Group. Talient would create the order prepare the final graphics and proofs, and send these back to The Granite Group. Once approved, the orders would be processed.  This process involved Granite Group's branch managers and design person, as well as Talient Action's customer service rep and prepress person, resulting in a tremendous amount of time investment.
With the launch of The Granite Group Web2Print portal, the process has been streamlined significantly saving time for both The Granite Group and Talient which means faster turnaround, fewer errors, and saved budget dollars. Now, branch managers can self-register on the portal, enter the business card information, receives instant proofs, approve and place the order.
The order then follows an approval process established with The Granite Group corporate team. So how does this save money?
The order is automatically entered into Talient Action's MIS system and the PDF is at the digital printer waiting to be printed. All with no human intervention. The combined time savings for The Granite Group and Talient is estimated at 40 minutes per business card. At approximately 12-15 business cards per month, it amounts to 8-10 hours per month in reduced time. As a result, Talient Action is able to pass along the savings to The Granite Group. The Granite Group's design person summed it up best " I really like it!  It's much easier than making the cards on InDesign!".
The Granite Group is now exploring opportunities to utilize Talient Action's fulfillment services.  Talient will print notepads, pocket folders, and other items in bulk and store them within our warehouse.  The Granite Group's branches can then order what quantity they need through the portal and Talient will ship it out from inventory. This will save Granite Group's time in doing the fulfillment activities, as well as keep track of the quantities of inventoried items alerting both The Granite Group and Talient when an order to replenish inventory is needed.
Let's be smarter about our print.
Interested in learning more about Web2Print Storefronts? Schedule a call with one of our experts, Matt Hanna now!