Step outside the box (or the 8.5 by 11 rectangle) of typical printing and explore the exciting world of die-cuts! Every business and brand relies on a classic rectangle for their printing style, but you can do better. Die-cuts have limitless possibilities. From sneaker-shaped fliers to coupons in the shape of hockey sticks, a die-cut can turn any print item into any shape you can imagine. Combined with your choice of colors, fonts, and stocks, a die-cut is a sure fire way to grab a customer's attention.
Why Die-Cut?
No business has the exact same advertising needs, which is why die-cut templates are so convenient. Many print companies offer various templates which can then be customized down to every detail. The shape is just the beginning! A die-cut isn't merely customizable, they're also functional in that they stand out amongst the abundance of basic rectangle print.
What was the last piece of advertising you saw on a rectangle shaped paper? Can you remember a specific one that stood out to you? Chances are you can't because they all look alike. But if you walked into a store and saw a cutout of your favorite athlete or received a pizza-shaped flier from your favorite pizza place, you'd remember that. A die-cut goes beyond putting your brand out there, it puts your brand into your customer's hands (sometimes literally) and gives them something more tangible to remember.
Read further and see how some of our popular die-cut templates can be used for a wide variety of print jobs.
Simple Circles
These circles don't have to remain simple! In fact, we hope they don't. Circle templates are one of the most popular die-cuts because they can be used in countless ways. Looking for a handout that stands apart from the crowd? This die-cut is just what you need. Maybe you need a golf ball shaped invitation for your annual tournament or a smilie face appointment reminder for your dental office; this die cut transforms basic to memorable. From charity pin-ups to fliers, there's really no bad use for a circle. Dress them up or dress them down, these die-cuts will fulfill all your needs.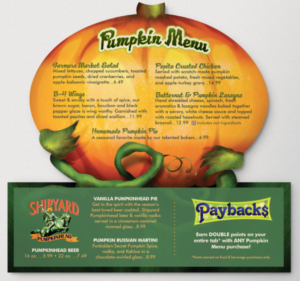 Pumpkin Menu
Pumpkin spice is all the rage, even in the world of print. This pumpkin shaped die-cut can be the perfect way to showcase all of your fall flavored treats. The fun doesn't stop there however, this piece, just like most die-cuts, is easily used for other items, such as an invitation or a coupon handout. Die-cuts are an excellent way to be seasonally relevant without being over the top.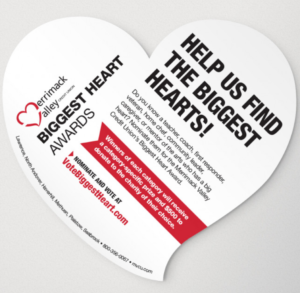 Heart
Everyone likes to show some love, which is why hearts are another popular choice for die-cuts. A heart-shaped pin-up is a wonderful way for organizations to encourage donations or for a business to showcase products that their customers really love. Whatever it is that you or your organization care deeply about, a die-cut heart is one of the best pieces to use.
Die-Cutting and You
The first step in your die-cutting journey is connecting with your printer and seeing what templates they offer or if you are able to custom design your own shape. For most printers, die-cutting has endless possibilities, meaning your project can be accomplished exactly how you envision it.
Whether you're looking for a new take on your print advertising or want customers to feel secure with your brand, die-cuts can help you reach your goal. A die-cut allows you to utilize a design which would not be possible through regular printing, all while returning to print advertising which so many consumers are hungry for.