Get your stamps ready! There has long been a misinterpretation that Millennials are focused on digital and only digital. The truth is, that businesses can utilize other communication styles like direct mail to get their attention equally, if not more successfully.
Direct Mail Remains Powerful
Younger consumers still respond to printed communications if it has the right messaging. About 44% of consumers under the age of 35 read all their direct mail communications (Keypoint Intelligence, 2021). In fact, Gen Z and Millennials are most likely to read all their direct mail (2021) when compared with the older generations. Since Generation Z and Millennials are used to digital overload, printed communications offer a personalized and unique touchpoint that provides them a tangible connection with a brand. With print, consumers choose to interact with it on their own time, and studies show that content is more likely to be absorbed when consumers are interacting at their leisure. The nice part about the permanency of print is that if a consumer doesn't interact with it at the time they receive it, it doesn't mean they will not pick it up later. Print has the longevity that digital does not.
Considering the way in which you use print to market to a younger audience is vitally important to its success. Being of the digital age, this audience is accustomed to brands using over the top and flashy visuals and creative reels to engage them. The same design concept should be carried out in the print space as well. Utilize strong, contrasting colors to call out important information or calls to action to ensure your message and intended action is being delivered clearly.
Nike Gets Creative
Millennial consumers are more likely to remain loyal to a brand when the buyer's journey is a memorable experience. Nike decided to take advantage of this by sending out limited-edition shoeboxes that would project the sounds of crowds cheering to the Millennial audience. This was done in hopes of getting younger audiences to take up sports and ultimately purchase Nike products.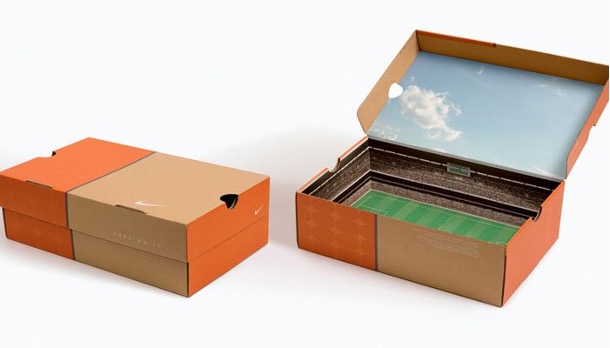 Combining Print and Digital
Direct mail is a great way of catching the attention of younger audiences, but when used alone, it doesn't have quite the impact. Digital communications should always accompany a print campaign to increase the frequency of consumer touchpoints with your brand. A great way to use the combination with a younger audience, is through Reverse IP Append. This technology uses the unique IP addresses of those individuals that visit your website and associates it with their physical mailing address. Ultimately, allowing you to send direct mail pieces to website visitors. Using this technology to send a consumer a discount, or one time offer is a great way to engage a Millennial consumer as they tend to be more price driven than the older generations.
Just remember, younger audiences are being constantly bombarded with digital marketing and are looking for messaging that stands out. Be memorable and catch their attention by incorporating print mail in your marketing strategy!